Auto Extrication
   
A fire fighter's role at a motor vehicle accident varies greatly.  Fire fighters check the scene for hazards such as downed power lines, damaged electrical kiosks, whether there is fuel leaking and what type of fuel it is, and any other potential danger.  We then analyze the type of vehicle or equipment involved and the number of occupants/patients in order to plan an efficient and safe rescue. We protect the scene and patients from other vehicle traffic and ensure that the vehicle is stable so it does not shift during the rescue, which could endanger those entrapped as well as emergency personnel.  When a patient has suffered a serious injury, specialized tools (rescue airbags or the jaws of life) and techniques are used to remove parts of the vehicle from around the patient. Fire fighters may also use small hand tools, such as hacksaws, air chisels, reciprocating saws, or wrenches.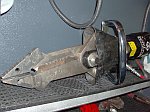 Improvements by the automotive industry have resulted in increased safety for vehicle passengers, but in a serious motor vehicle accident they make a fire fighters job more challenging and dangerous. The same lightweight high-strength alloys in the passenger safety cage that protect the vehicle occupants impede our efforts to treat and/or free them from the wreckage. We need to stay on top of changes in vehicle designs, extrication techniques and new extrication tools able to deal with the changing technology. We must be careful to avoid setting off un-deployed airbags (which activate at 300 feet per second) and seatbelt pre-tensioners (which have explosive charges in them).
Since Powell River's Professional Fire fighters are all trained and licensed to provide life saving pre-hospital care, we help the injured not only by performing rescue services but also by providing first aid on scene, such as supporting the patient's head and neck, stabilizing any broken bones, controling bleeds, etc. – possibly before other medical assistance arrives.
Once the patients and their vehicles are removed from the accident scene, fire fighters clear the area of debris and more often than not are the last to leave the emergency scene