Powell River Professional Fire Fighters Charitable Society
The Powell River Professional Fire Fighter Charitable Society is a registered charity that has been changing lives in Powell River since it organized in 2004. It provides education in programs such as the Fire Safety House, as well as to help relieve poverty within the community of Powell River through basic amenities, including food, clothing and shelter.
The charity also assists other charities within the community that have similar goals and objectives. In past, the charity has donated to Bruce Denniston Bone Marrow Society, as well as the Brain Injury Society, the Powell River Mobility Opportunities Society and Muscular Dystrophy Canada. The charity also has donated to the BC Professional Fire Fighters Association Burn Fund, a vitally important charity that was recently used by two community members who suffered large burns to their bodies and had lengthy stays in the Lower Mainland. Please follow this link for more information: http://burnfund.org/burn-fund-centre-2-2/about-the-centre/
A recent ongoing program that the firefighter charity has begun is to provide food for local schools that have hungry students who show up to school with little or nothing to eat. The program was piloted 2016/17 school  year and this past year it has been officially expanded for students in Brooks Secondary School, Henderson Elementary School and Westview Elementary School. Below is a picture of our very first delivery!
As firefighters, we enter many homes in the community and see the need firsthand. We feel our assistance can help to lift the burden of families and help our children thrive in a community that cares for them in every aspect of their lives. Healthy communities start with our children and benefit us all. We may never really be able to fill the need that is required, but we are trying to do as much as we can.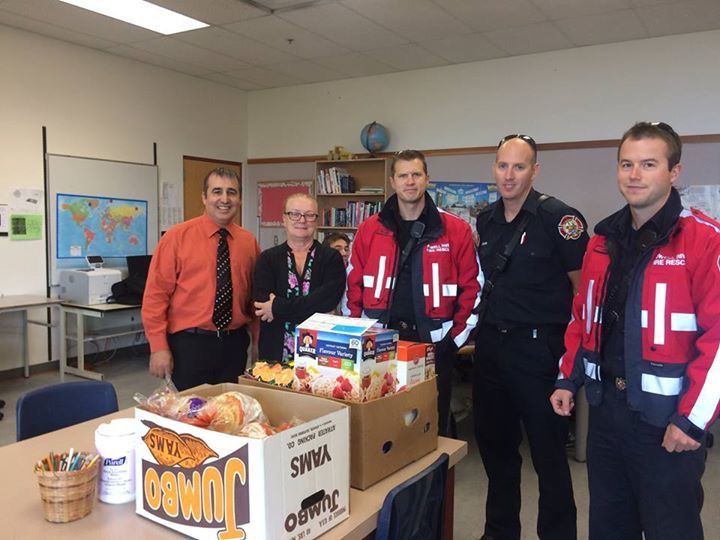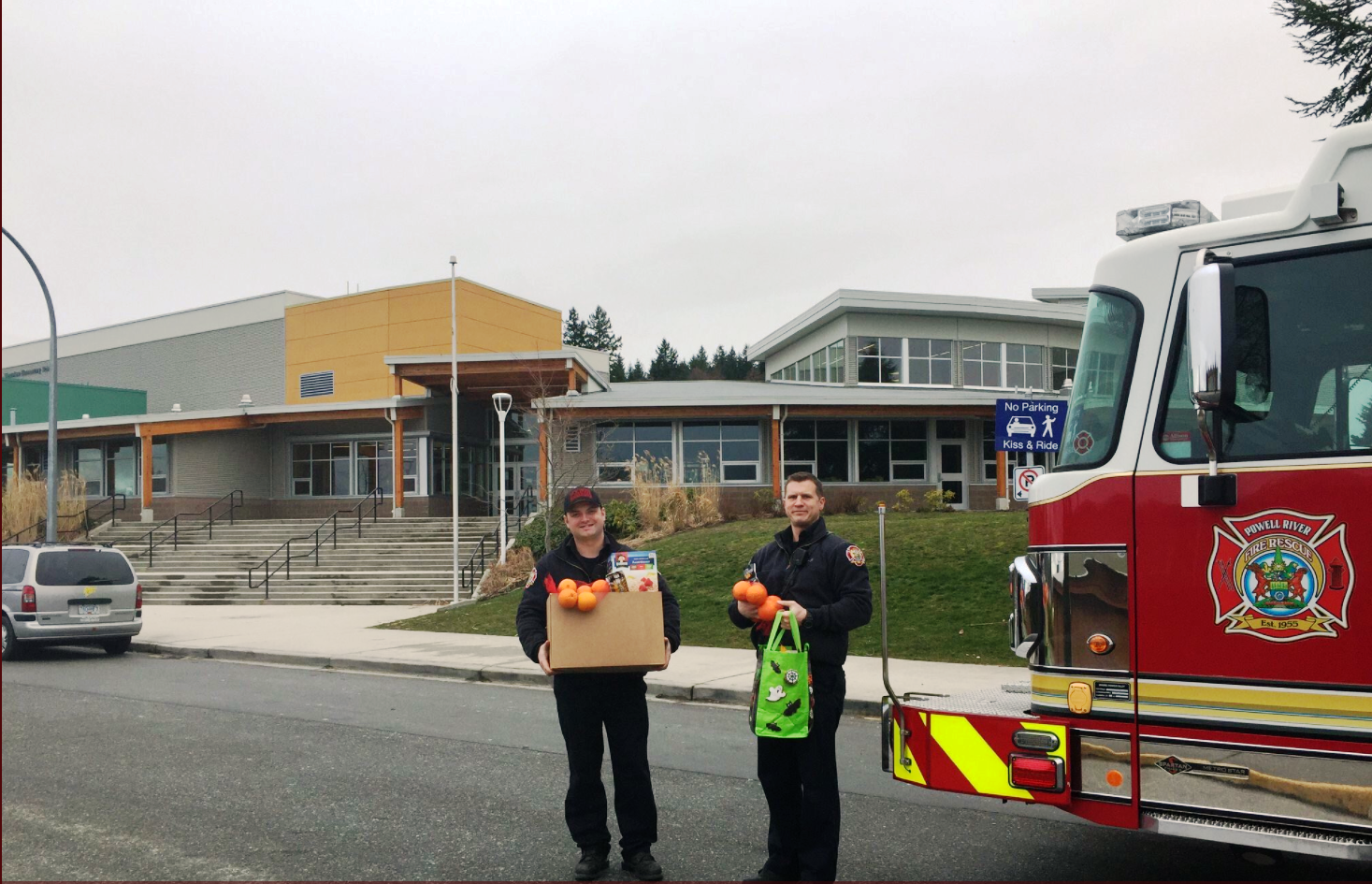 Funding for Powell River Professional Fire Fighters Charitable Society comes from payroll deductions made by every single member of Powell River's International Association of Fire Fighters Local 1298, and through fundraising efforts such as car washes, as well as private and corporate donations.
Most Recent Charity News:
Powell River Professional Fire Fighters presented a $1000 cheque to the Christmas Cheer Fund reps Geri Anderson and Sherry Hunter.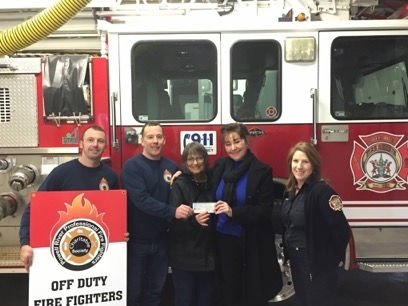 Powell River Professional Firefighters Charitable Society presented a $1000 cheque to Martyn Woolley and Ashley Padgett of the Community Resource Centre.
Powell River Professional Firefighters Charitable Society receive a $7000 cheque from 100+ Women Who Care Powell River, to be matched by a Powell River Community Forest grant. These funds will go a long way in helping out those in our community.
Powell River Professional Fire Fighters Charitable Society made a $1,000 donation to Paddling For Life Dragon Boat Team.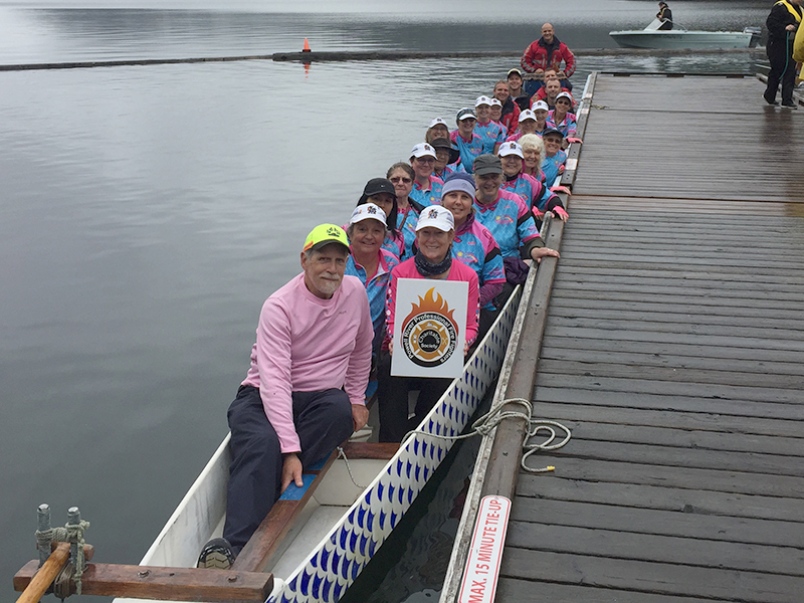 Powell River Professional Firefighters Charitable Society and Raymond James Ltd. team up to support local students.  It was a pleasure to accept a $2,000 donation from the RBC Foundation and  presented by Raymond James representatives  Rene Babin, Financial Advisor, Leslie Eckland, Financial Advisor  and Lisa Boese, Administrative Assistant.  These funds will be used to provide groceries for lunch and breakfast programs at area schools.  This generous donation will enable the charitable society to ensure our youth have a good start to their day.   Currently, three schools are supported by this program with plans for expansion in the 2018 fall-term.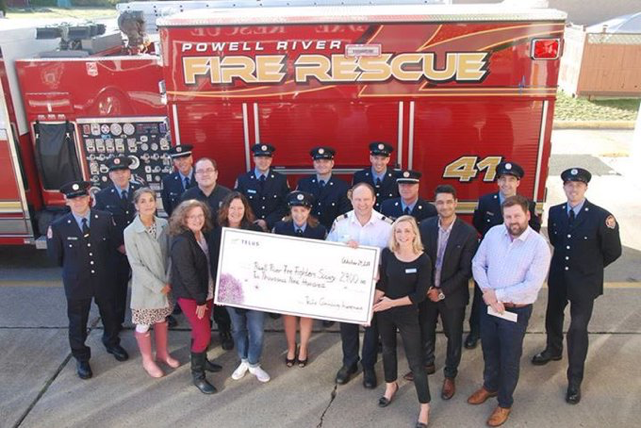 Powell River Professional Fire Fighters Charitable Society received a $2,900 donation from Telus after partnering with Telus and Powell River Community Radio Station CJMP for the Can You Hear Us Now publicity event.
CJMP is celebrating its newly moved broadcast antenna to the Telus tower on Gallagher Hill, increasing the reach of its signal and providing emergency broadcast service to more of the region than ever. After having a 12-hour window for new listeners to phone in, new listeners' names were put in a draw for prizes and the Powell River Professional Fire Fighters Charitable Society received a donation from Telus for every caller that called in.
Thank you to everyone who came by for a car wash at Safeway or just to make a donation to our Charitable Society. Big shout out to RBC for teaming up with us today! We managed to raise $958 thanks to your generous support!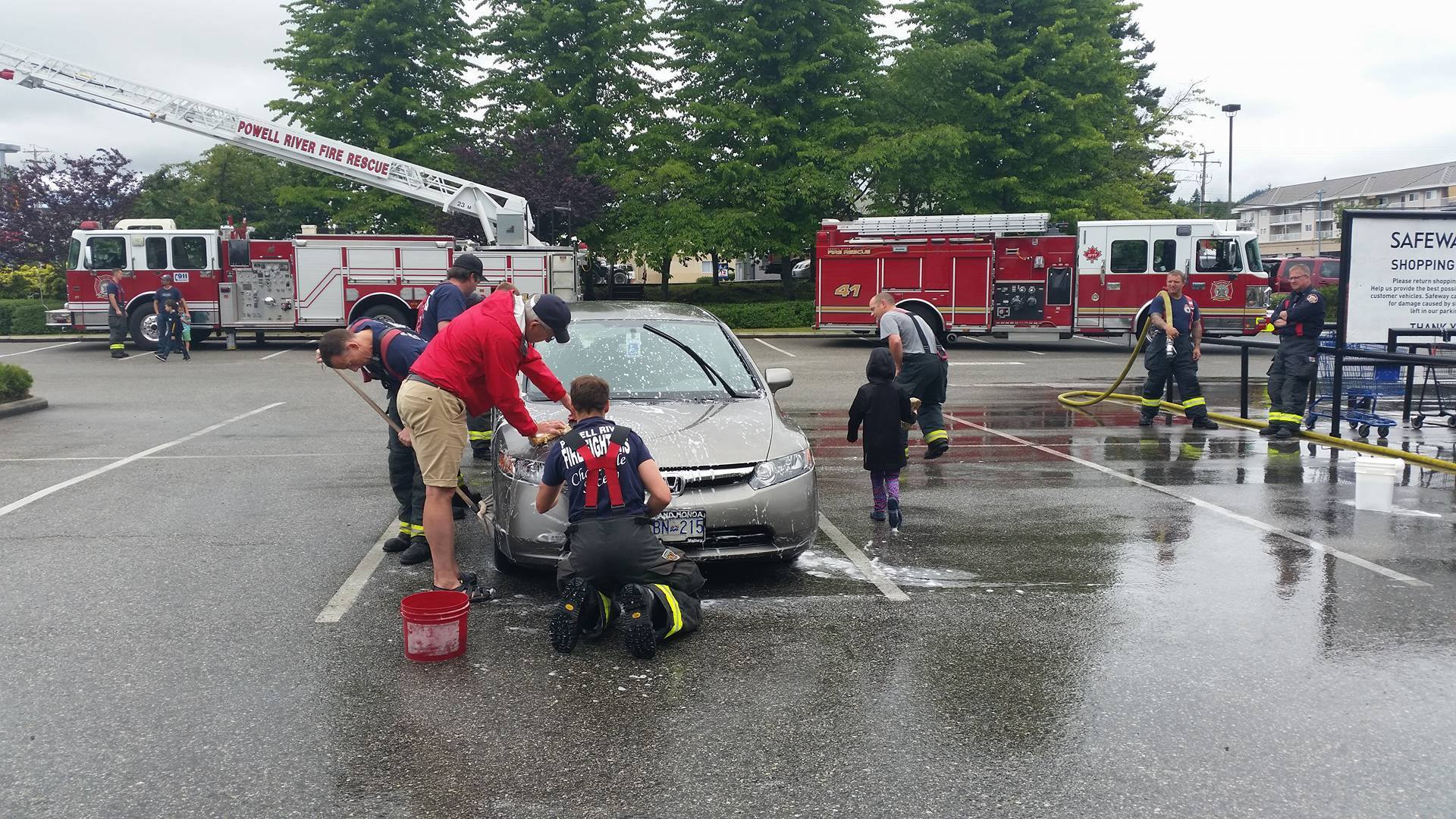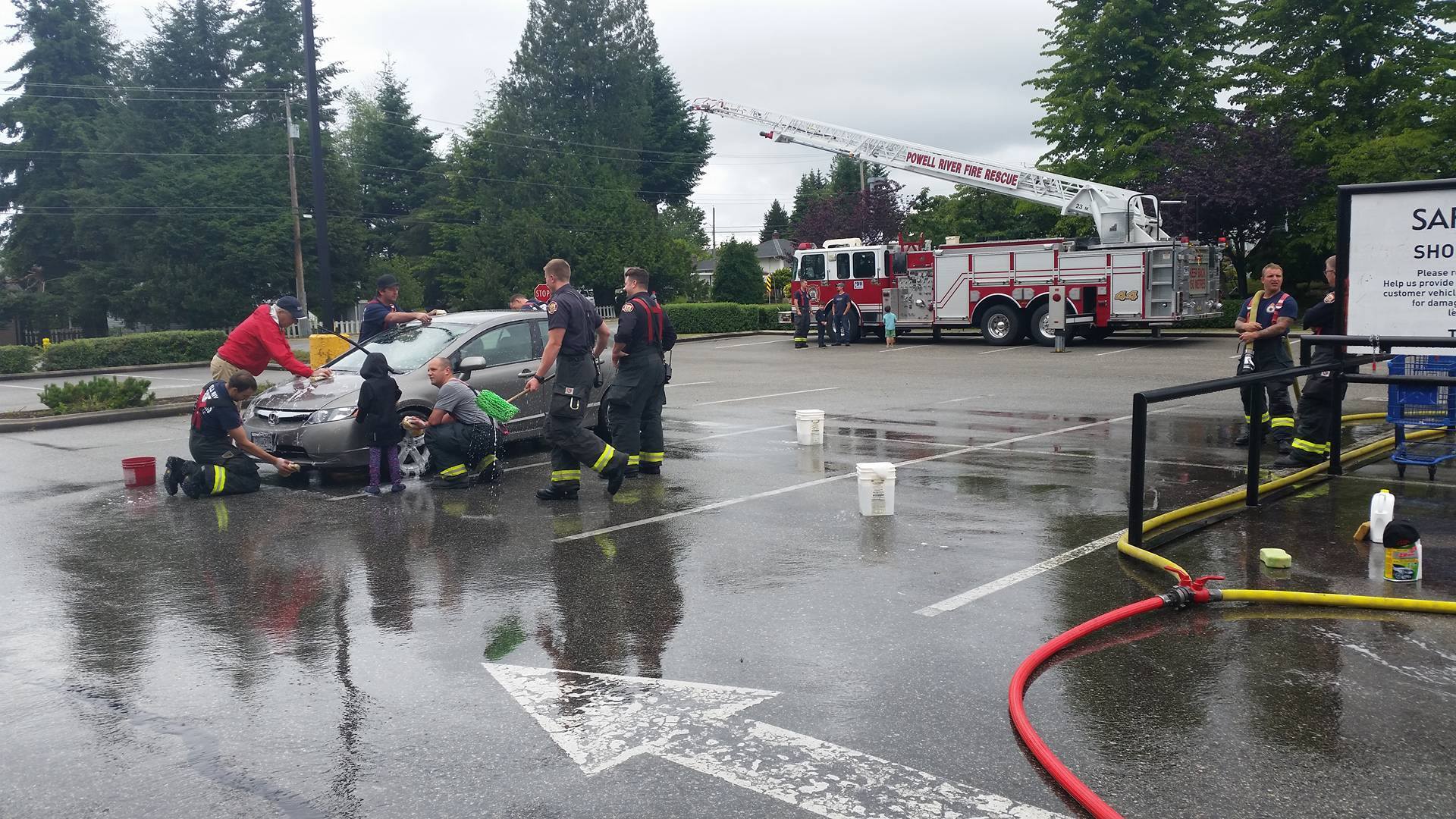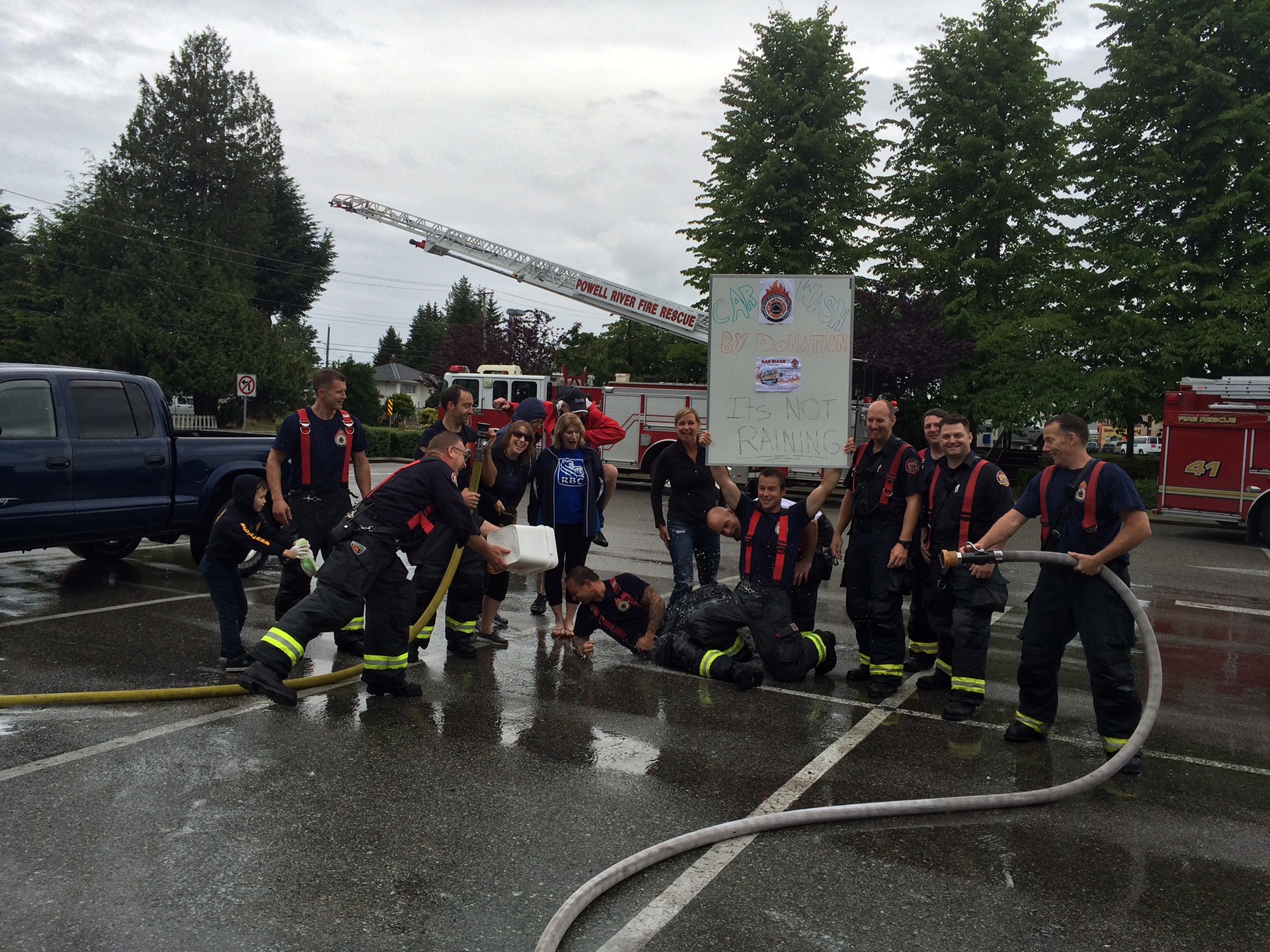 Picked up a check from Save-On-Foods in support of the Powell River Professional Fire Fighters Charitable Society. Thanks!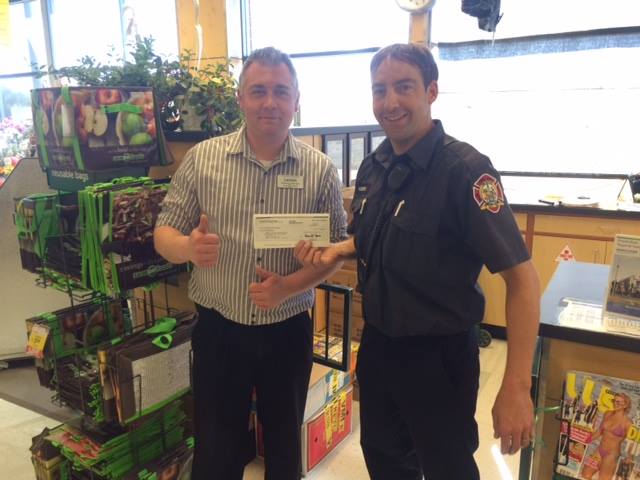 To see our Powell River Professional Firefighters performing Macho Man as the opening act of the Lip Sync Contest in a Charity event to support of our local pathfinders group please click the following links!


          View from left of the stageView from right of the stage
Thank you Powell River for choosing Powell River Professional Fire Fighters Charitable Society in the Telus Fibre for Good campaign.
Through fundraising efforts including car washes, dinners, and hot dog stands, the Charitable Society has supplied the following equipment/funds for the community: a TV and VCR for the maternity ward, modifications to the floor of a wheelchair van for a family in need and a lift assist chair; donations to upgrade the oncology room at the hospital, and raised $15,879.51 during the 2011           Sun-A-Thon which was donated to 3 different community groups.
The Charitable Society has also purchased the following necessary emergency equipment: a defibrillator, a vital signs monitor, a thermal imaging camera and two pulse oximeters.
In 2008, the Charitable Society purchased a Mobie-CAD unit: a mobile computer with GPS mapping software.
Installed in Rescue 1 (the first response unit), this device helps to further reduce turnout times by giving us address and hydrant locations while en route to the incident. In addition, building pre-plans, motor vehicle safety information, and hazardous material information is added to the Mobie-CAD. With all this information at hand, Powell River's firefighters will be able to make decisions more quickly, resulting in an increased level of service.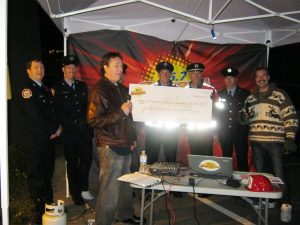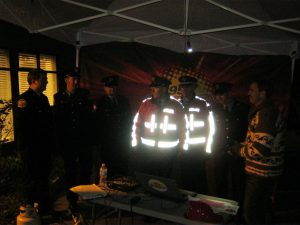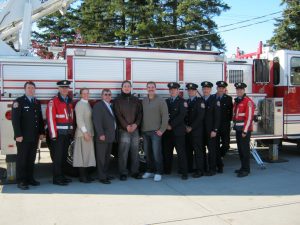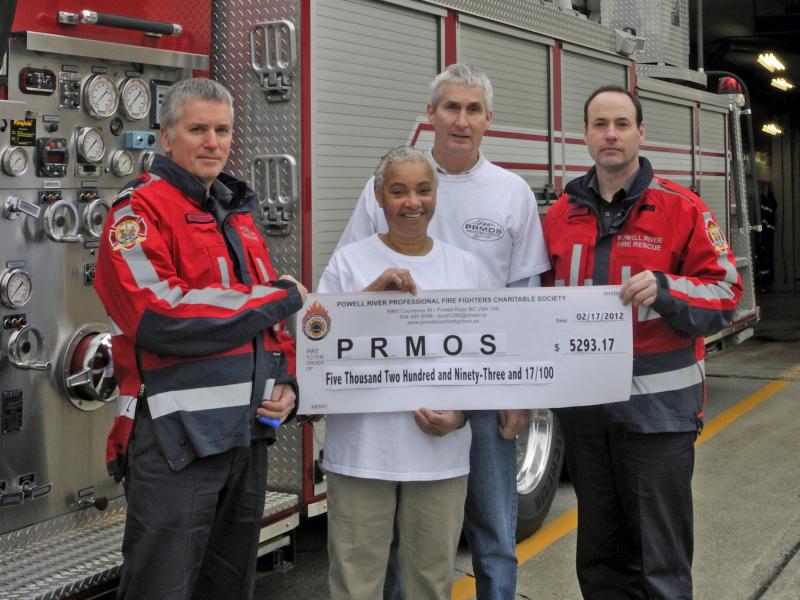 HATS OFF: Bruce Denniston Bone Marrow Society president Garry Anderson [left] accepts a check for $1000 from Bill Grantham of the Powell River Professional Fire Fighters Charitable Society. The money will go towards upgrades to the Powell River General Hospital's oncology room.