We respond to medical calls for the simple reason that many times the fire apparatus may be closer than the first available ambulance, allowing us to initiate lifesaving treatment before the ambulance arrives.  The  ambulance service responds between Lund and Saltery Bay, so if they are on a call, there can be a considerable wait for a second ambulance to respond. Regardless if the ambulance has arrived before or after we have, we assist with patient care, help package, and carry the patient. Depending on the severity of the illness or trauma, it is not uncommon for a firefighter to also ride in the back of the ambulance assisting the paramedic with patient care while in transport to the hospital or even at the hospital.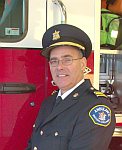 Unit Chief Robert Perry of the BC Ambulance Service (BCAS) states that "The local First Responder Program combines the resources of the Powell River Fire Department and the BC Ambulance Service to maximize the quality of pre-hospital emergency care in our city.  It is without a doubt one of the best in the Province and the citizens of Powell River can be proud"
Perry has been a long standing member of the BCAS. He has served as Unit Chief in both Powell River and Courtenay and has since retired.